ADRIANA CASTELLANOS: CONTRIBUYENDO A CONSTRUIR UN MUNDO MEJOR
"Admiro a la mujer guatemalteca. Admiro que, en contra de todo pronóstico, lucha no solo por sus sueños sino también por los sueños de sus hijos. Que trabaja por superarse, encontrar su felicidad y que con orgullo logra brindarle educación a sus hijos", Adriana María Castellanos Bustamante.
 Creció en una familia unida, con padres activos en sus emprendimientos y en distintos grupos de voluntariado. Tiene tres hermanos y tuvo la oportunidad de compartir con sus dos abuelitas quienes la educaron "a la antigua", con muchos principios y valores. En su casa era típico hablar del acontecer nacional mientras comía, "con el espíritu de participar en alguna discusión de sobremesa, empecé a leer todos los periódicos y a formar mi opinión, buena o mala, tenia voz en el debate familiar", recuerda Adriana.
Un desafío personal que le ha tocado aprender a manejar para lograr sus objetivos personales ha sido la incertidumbre, "soy planificadora por naturaleza y me gusta mantener todas las variables mapeadas y bajo control, en la vida diaria realmente esto no es posible. Lo he vencido confiando en saber que lo que estoy haciendo hoy, lo hago de la mejor manera que puedo y con toda la pasión, y esto se convertirá en mi garantía de lo que se venga mañana", cuenta Adriana.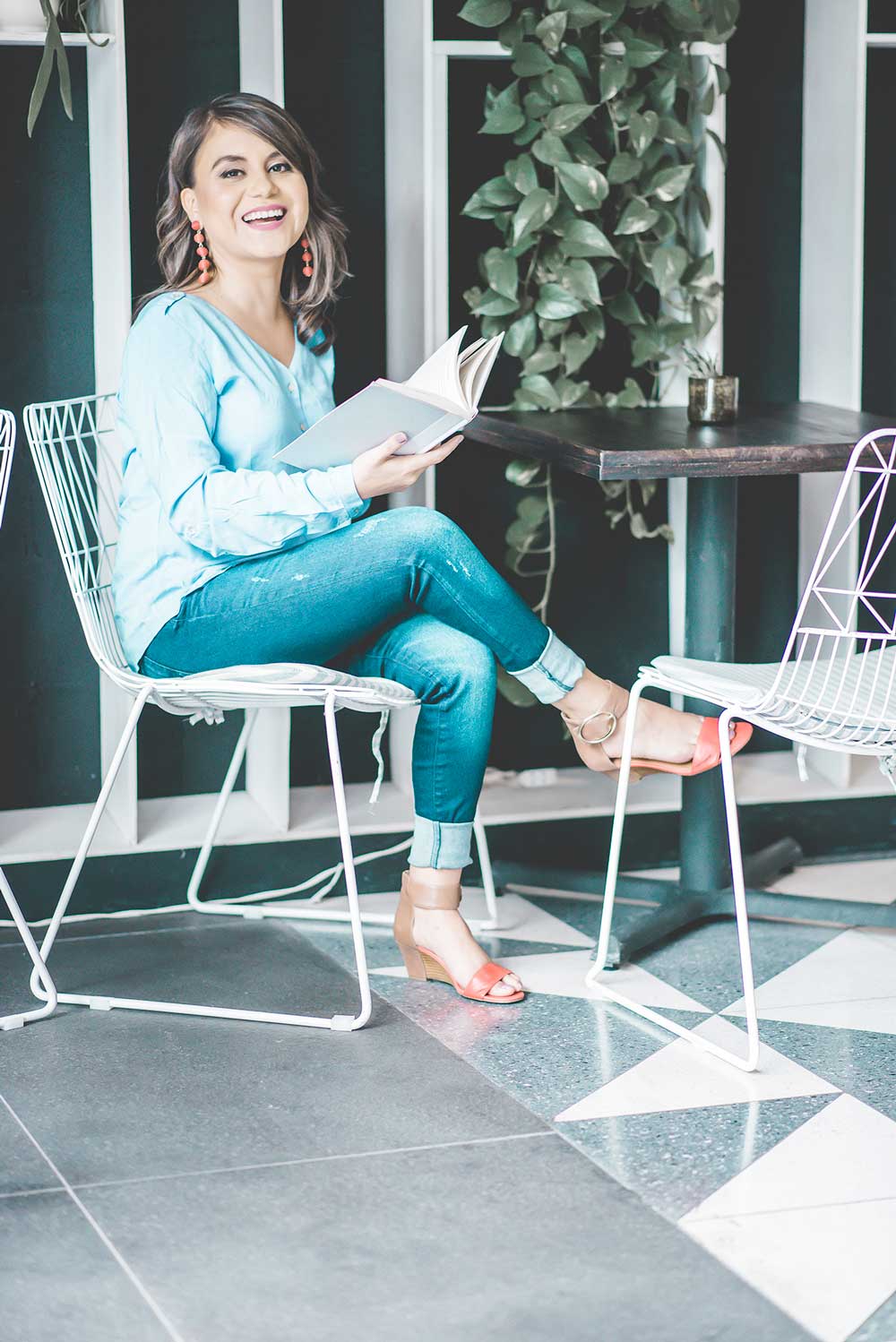 Estudiar para cambiar el mundo
Estudió Licenciatura en Economía, en la Universidad Francisco Marroquín (UFM). Certificado de Business & Goverment Affairs en Georgetown University. Posgrado en Liderazgo Organizacional en la San Pablo y por escribir tesis para maestria en Politica Economica de la UFM. Eligió su carrera porque deseaba entender cómo funciona la sociedad, "desde los primeros años, al haber acompañado a mis papás en distintas actividades y jornadas en la labor social, me generó inquietud la pobreza, y siempre quise hacer algo para combatirla. Así fue como me interesé en el estudio de la economía, para comprender cómo los países han logrado salir de un estado de pobreza a un estado de menor pobreza, y ahí encontré un campo de estudio que me encanta", cuenta Adriana.
Al graduarse, su corazón le llevó a la administración pública, con ese mismo deseo de ayudar a reducir la pobreza. Trabajó en diferentes proyectos con organismos internacionales y el Ministerio de Economía. Sin embargo, en la iniciativa privada también encontró un espacio dinámico para emplear sus habilidades. Actualmente trabaja en Cabcorp (The Central America Bottling Corporation), compañía que actualmente se conoce como CBC. Su puesto es asistente de Junta Directiva, directamente con el Presidente Ejecutivo; da seguimiento a proyectos, entre ellos, ha podido sumarse a las actividades de la Escuela Enrique Castillo Monge. Además, participa en actividades académicas o el Hub de Global Shapers de la Ciudad de Guatemala (Iniciativa del Foro Económico Mundial).
Adriana cuenta, "siempre he sido una persona que ha estado en más de una actividad, buscando tener más cosas que hacer. He ido a donde me llaman y a veces…a donde no me han llamado. Recuerdo que mi primer trabajo fue en la Universidad, donde, por empacar boletines informativos en sobres (antes se enviaba de manera física) pagaban mi tiempo con libros. También me involucre con el Centro de Análisis para las Decisiones Públicas (CADEP), me dedique a dar charlas, organizar eventos, acompañar en distintas actividades en la ciudad de Guatemala y en los departamentos. Este tipo de actividades extracurriculares me fueron dando la oportunidad de iniciarme como auxiliar y luego como catedrática en la Universidad. A través de estas actividades fui conociendo a distintas personas. Una de ellas fue quien me nominó a ser Global Shaper de la Ciudad de Guatemala. La cual es una iniciativa del Foro Económico Mundial que agrupa a jóvenes de distintos sectores que buscan impulsar cambios positivos en la ciudad donde viven".
Encontrando caminos
Algunos de sus logros han sido ser co-chair del Council de Gobernance and Accountability de Global Shapers Community a nivel global. Haber sido nombrada miembro del consejo académico del Centro de Análisis para las Decisiones Publicas (CADEP). Fellow del Programa "Centroamerica Adelante" del Seattle Institute y fellow de The Fund for American Studies. Uno de sus mayores logros es su trabajo actual, donde ha encontrado en quienes lideran la organización, a verdaderos coaches, y más que un trabajo es un espacio para seguir buscando la mejora continua con retos a nivel profesional. "Me siento identificada con la cultura orientada a la excelencia, la cual trasciende en una visión que busca contribuir a un mundo mejor. Lo cual compagina con mi propia visión de vida", piensa.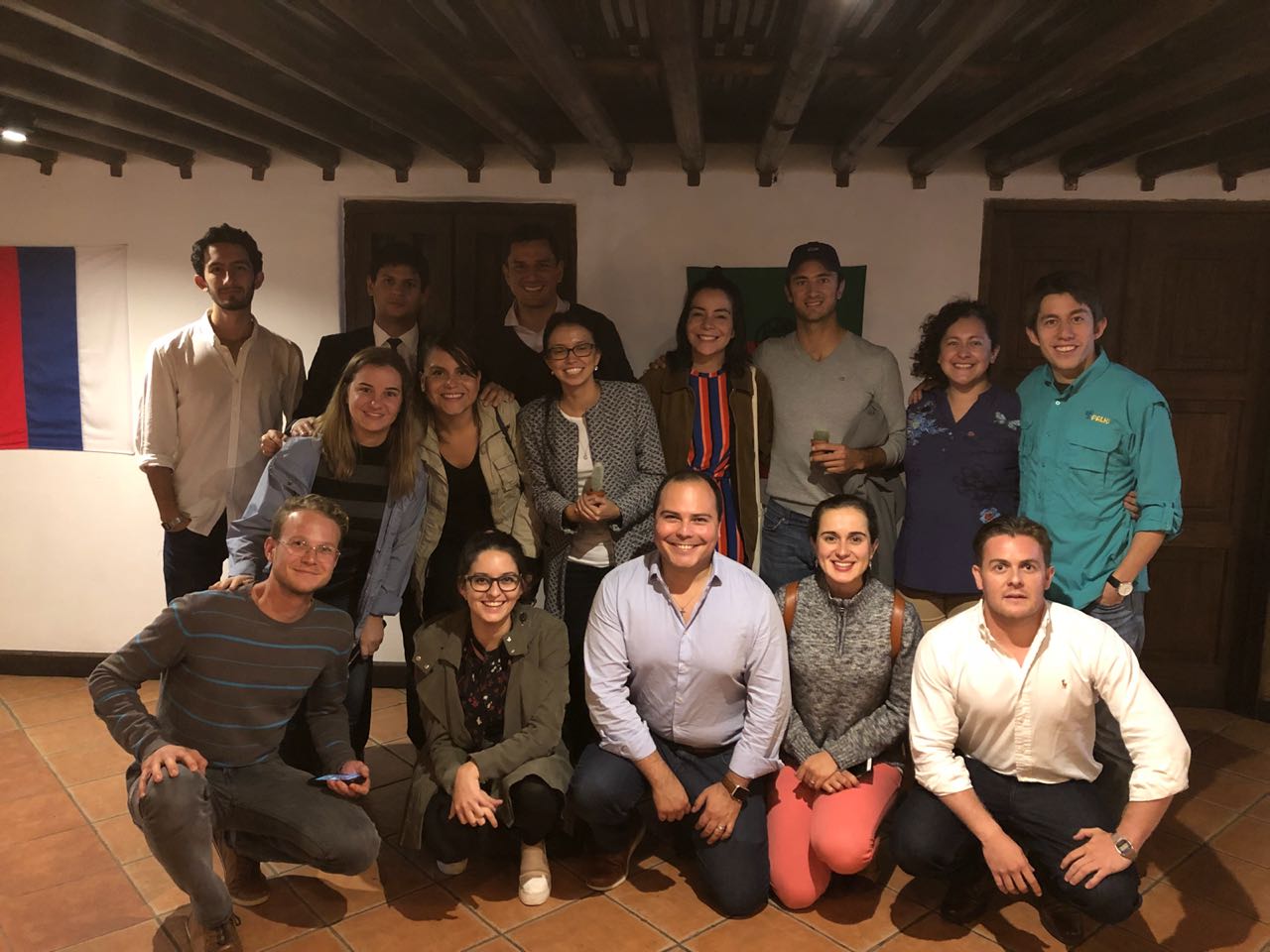 Se siente afortunada porque ha tenido "mentores" en las distintas etapas de su vida. Fuera de su núcleo familiar, su tío Ricardo, "ha sido una persona que con un par de preguntas me reta a pensar diferente, motiva a leer y a seguir cultivando mi criterio". En la Universidad, Fernando Monterroso, ex rector de la Universidad Francisco Marroquín y Cristian Álvarez, director del CADEP, a quienes agradece cada consejo y guía. Yara González y María Kaltschmitt por la confianza que depositaron en ella.
Adriana ha tenido la libertad de escoger lo que le gusta y trabajar haciendo lo que le apasiona. Ella está consciente que esa no es la realidad de la mujer en Guatemala. "La oportunidad que tuve de ver en mi mamá a una mujer emprendedora y con visión, que perseguía sus sueños, y día a día salía de casa con su maletín me empoderó a mí a buscar mi propio maletín. Ver a las mujeres realizarse y viviendo la vida que desean vivir debe de ser un empujón de empoderamiento para otras".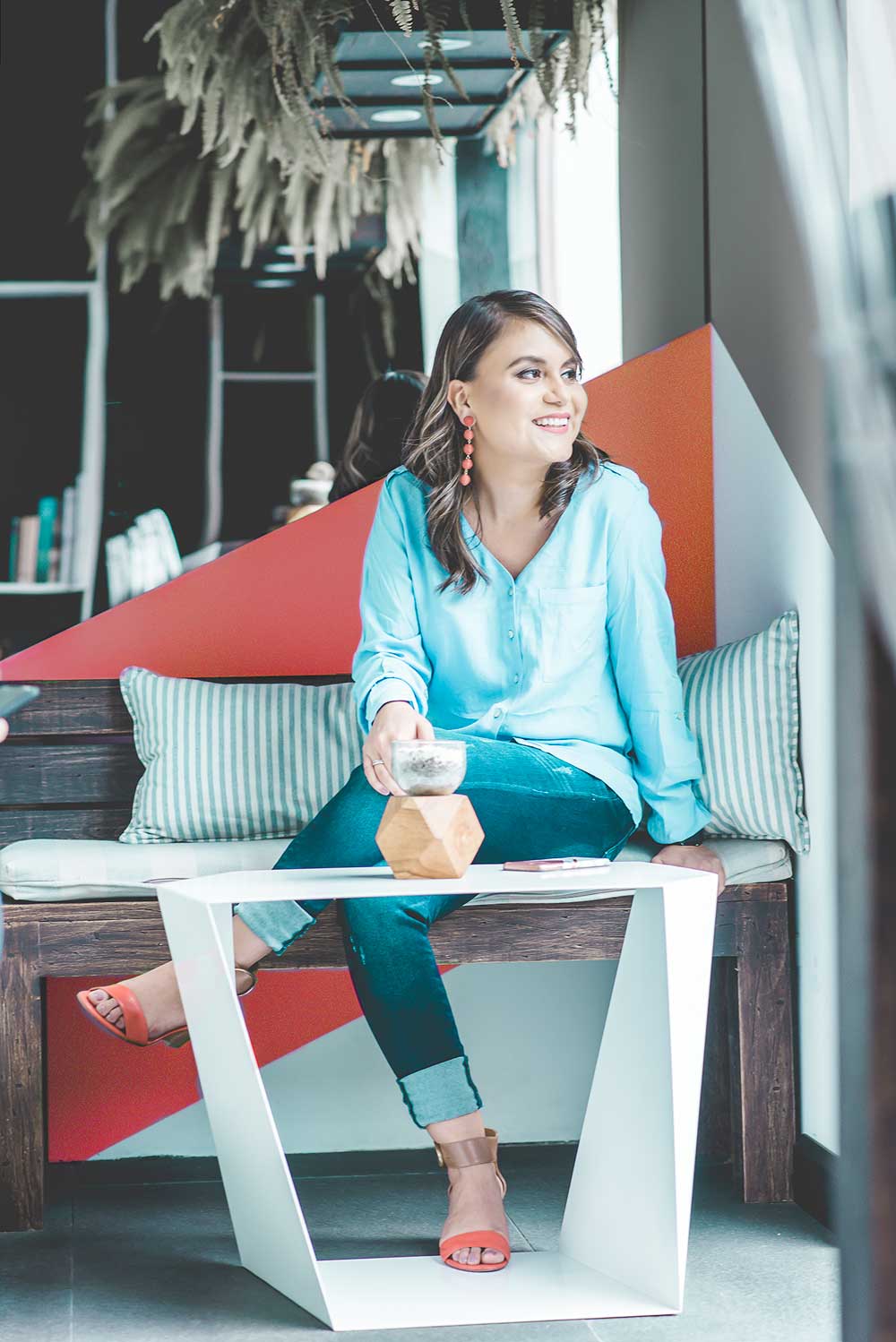 Fotografía: Eva Zelenkova