DESTINATION HONEYMOON: NUEVA ZELANDA
Seguramente has escuchado hablar de las maravillas naturales que ofrece un país tan alejado como Nueva Zelanda. Si estás buscando un lugar para pasar tu luna de miel, tú y tu pareja son aventureros y gustan de la naturaleza, no habrá mejor lugar sobre la faz de la Tierra que este remoto país para disfrutar de un tiempo juntos.
LOOK TIPS & TRICKS
Podrás contemplar las montañas nevadas desde el lago Tekapo, alejados de las luces y el ruido de la ciudad. Uno de los atractivos del lago es la pintoresca iglesia Churbh of the Good Shepherd, en donde a través de una ventana que enmarca el altar, tendrán una vista perfecta del Monte Cook.
---
Si visitas el parque geotermal Waitopu a las 11 de la mañana, se experimenta una gran atracción del geíser que se eleva a unos 20 metros de altura. Podrás observar arroyos fluyendo por doquier, podrás disfrutar de las aguas calientes que muchas veces presentan distintos colores y el agua de los arroyos que siempre están hirviendo, por lo que habrá suficiente vapor alrededor.
---
Si te gusta la aventura, pueden llegar a visitar el glaciar Franz Josef, tan cercano a tierra, al cual puedes llegar a través de una carretera boscosa. Una vez allí, a través de una caminata de 40 minutos, podrás acercarte al glaciar, subiendo por una pendiente de arena, atravesando cascadas, puentes colgantes, un bosque semitropical, para finalmente encontrarse frente a una pared de hielo azul que se forma por la compresión de la nieve.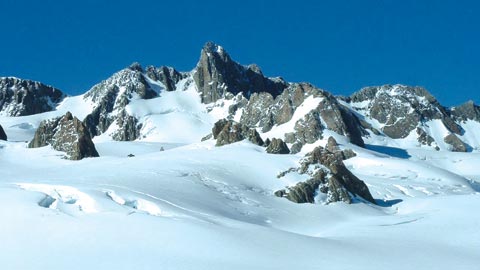 ---
Las cuevas de Watamo parecen ser un lugar fuera de la Tierra. Se encuentran aproximadamente a dos horas y media de Auckalnd y tienen la peculiaridad de estar iluminadas por una larva llamada Glow Worm, que brilla a través de su bioluminiscencia, brindando un espectáculo digno de una película de fantasía. El paseo se realiza por medio del río subterráneo.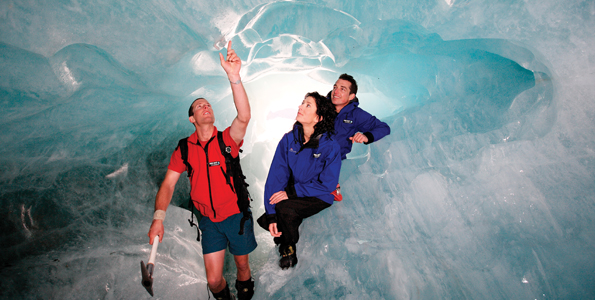 ---
Antes de concluir su viaje, aún podrás visitar el punto más alejado de Nueva Zelanda, Cabo Reinga, un faro/mirador y como le llaman los locales: el fin de Nueva Zelanda. Se ubica a 600 kilómetros de Auckland, en un punto dónde se une el mar de Tasmania con el Océano Pacífico. Cuenta la leyenda que el mar hembra y el mar macho se encontraron y danzaron hasta crear la vida tal y como la conocemos. En realidad es resultado de una erupción volcánica y es el lugar donde los Maories, tribu nativa de estas tierras, llevan sus muertos a descansar. Según su creencia, si el alma bebe agua mientras da el salto del acantilado, se quedará en el reino de los muertos, sino deambulará por esta tierra sin rumbo. El paisaje es impresionante, especialmente en diciembre, cuando florece el árbol Puhutukawa, completamente rojo.