Be audacious when it comes to improve your look
Los cambios son constantes en la vida, día tras día todo se renueva, todo se transforma, pero la diferencia está en la actitud que tomes para afrontar estos retos.
La rutina quedó atrás si buscas resultados distintos al salir a la calle. Habrá momentos en los que te puedas sentir abrumada al no saber qué escoger de entre tu armario para lucir cada día, ya sea para ir a la oficina, asistir a una reunión, hacer alguna visita o simplemente dar un paseo; pero en realidad cada una de estas ocasiones es una oportunidad para ser distinta y probar nuevos estilos.
Algo debes tener por seguro, la prenda más importante de vestir es la seguridad, el resto es una manifestación de tu personalidad audaz. Algunos consejos que te damos para tomar las calles como tu propio catwalk son:
Tomar la oportunidad: Anímate a salir de casa con atuendos que no sueles utilizar con frecuencia y sácales ventaja cuando sientas que te has quedado sin opciones. Te darás cuenta de que expandir tu zona de confort te ayudará a clasificar mejor tus outfits y así tendrás más variedad.
Un poco de piel al descubierto: Una de las maneras más simple para salir de la cotidianidad y verse más atractiva es mostrar un poco de piel estratégicamente. La elegancia puede remarcarse en los hombros, el cuello o los tobillos, pero intenta elegir una sola parte para resaltar y con base a esto escoger la prenda ideal.
El detalle del estampado: Las prendas con stamped prints, aunque no deben apilarse unas con otras, sí deben salir a la calle. Sus patrones son inspiracionales, dan movimiento, vida y un claro mensaje de tus gustos; así que ya sea en una falta, pantalón o vestido, procura combinarlos con alguna otra pieza que sea sobria y de un solo tono.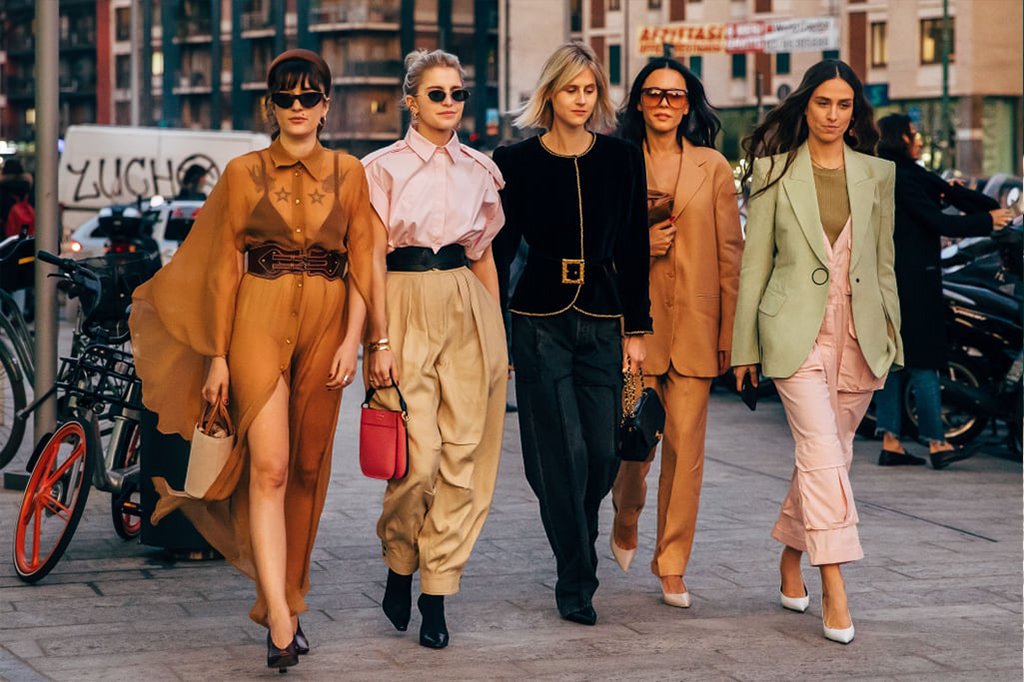 Sin dudas sobre la talla: Siempre habrá más de alguna prenda que te hará pensar dos veces si es buena idea usarla, principalmente por la talla. Ya sea que optes por una de tamaño reducido que delineará tu figura, o que optes por aquellas que son más holgadas y generen un aspecto relajado. Lo importante es la comodidad, así que si tu outfit te gusta y acomoda sácalo a pasear.
Un buen par de zapatos: Hay quienes la consideran como la inversión más importante, la compra del calzado. Los zapatos son el soporte de todo nuestro cuerpo durante el día, y no hay nada mejor que estar y lucir confortable con la selección correcta; ojo, que esto no te limita a escoger entre tacones altos o bajos, corridos o espigados, tampoco entre botas, zapatillas deportivas o flats.
La teoría del balance: Cuando se trata de percibir el estilo de una persona, el cuerpo se divide en dos, en la parte superior e inferior. Con esta teoría se intenta decir que, si utilizas una prenda ajustada, en el punto contrario procura vestir una holgada y viceversa. Esto mantendrá el equilibrio.
Sí a los colores: Una de las complicaciones al momento de vestirse puede ser la combinación de los colores, pero deja ese temor atrás y atrévete a realizar tu propia composición. Los colores vivos siempre resaltarán de entre los demás, y no necesariamente se deben complementar con un negro o un blanco, ya que puede ser con otros tonos o incluso vestir toda de uno mismo.
Más es más: Cuando se trata de sumarle personalidad a un outfit recurre a los accesorios, estos tienen esa forma sencilla pero funcional de resaltar todo lo que llevas puesto. Percibe cada pieza de la joyería, los bolsos, bufandas, pañuelos o anteojos como una muestra de tu sello personal, ya sea que utilices solo uno de estos o que encuentres el balance entre ellos.