F + BLOOD TYPE: ALEJANDRA Y ANDREA MENDOZA
ALEJANDRA Y ANDREA MENDOZA 
Es común pensar que las gemelas tienen los mismos gustos en todo, incluso en ropa. Sin embargo, Alejandra (pelirroja) y Andrea (pero rubio con tonos de rosado y platinado) nos demuestran que cada una tiene un estilo único y una esencia diferente. Por un lado, Alejandra define su estilo como edgy—atrevido, innovador, avant-garde. Y por el otro, Andrea nos comparte que su estilo es limpio—minimalista, libre de lo superfluo.
"Me inspiro en todo lo visual que he visto recientemente y que tiene una estética que llama mi atención. Por ejemplo, puede ser una buena película que vi la noche anterior, una foto de moda, una colección de un diseñador o una persona en la calle." – Alejandra
 "Me inspiro en el concepto de arquitectura o diseño industrial minimalista. También en las películas de ciencia ficción, la naturaleza o en galerías de arte."– Andrea 
En los looks de Alejandra, los colores varían según la temporada del año—no tiene un color favorito en particular. Los colores que predominan en los outfits de Andrea son las gamas cromáticas—mucho blanco, gris y celeste.
Ambas sienten que lo que les da un plus a su look son las cosas diseñadas o hechas por ellas mismas. En el caso de Alejandra, las bolsas de mano que ha diseñado para Vorocs—accesorios de moda hechos en Guatemala. Por el otro lado, Andrea siempre realza su look con el brazalete que ella diseñó.
---
Basics que no pueden faltar en el closet de Alejandra:
En color blanco: pantalones de tela de cintura alta, blazer, faldas y blusas.
Bomber jacket y biker jacket negra.
Basics que no pueden faltar en el closet de Andrea:
Un par de tenis casuales deportivos.
Una falda mini.
---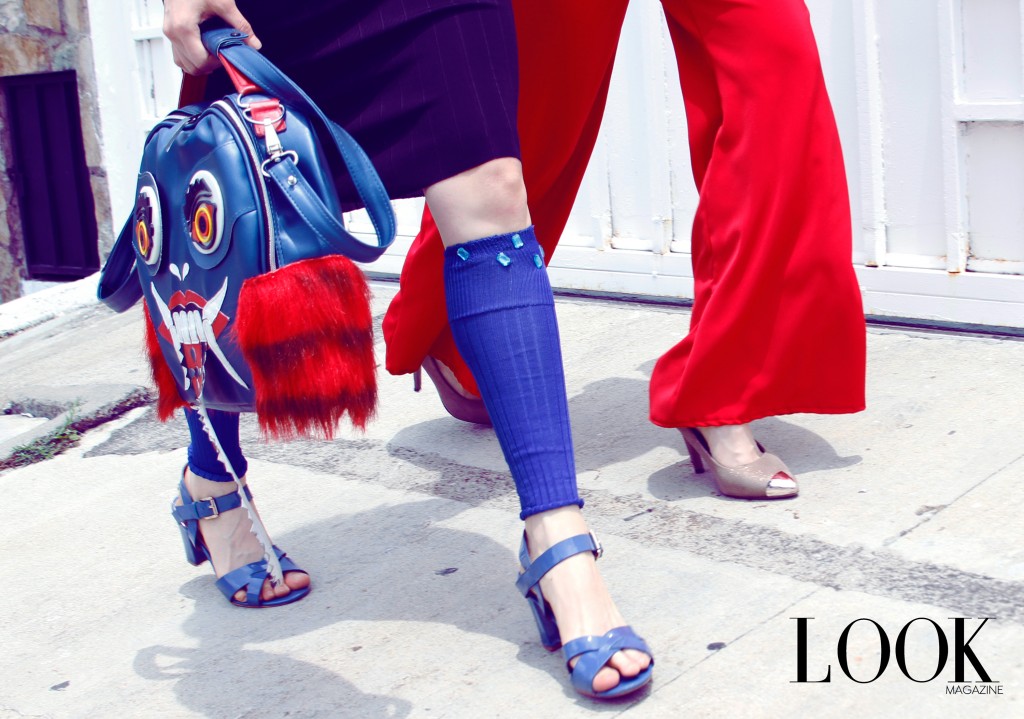 STYLE x 2 
"Es divertido porque usualmente entre las dos decidimos las prendas que queremos incorporar a nuestro closet para luego prestarnos la ropa. Tenemos un gusto muy parecido a la hora de escoger lo que nos vamos a poner. Además compartimos tendencias e inspiraciones que observamos en las redes sociales y eso hace que se amplíen nuestros conocimientos sobre la moda. Usualmente nos asesoramos sobre que atuendo usar en una ocasión especial. Así también compartimos el desorden de clóset y le damos vuelta al closet dos veces (risas)." 
Wish list 
"Las joyas de perlas que se vieron en la colección de Givenchy y Balenciaga para fall 2015 Ready-To-Wear."– Alejandra
"Los tenis fusion de Dior o las gafas Mask de Acne."–Andrea
Definitivamente, la moda corre por la sangre de las gemelas—Alejandra y Andrea. El estilo de ambas rompe esquemas y crea doblemente impacto, cada una con una esencia diferente.
---
Redacción: Isabel Moino
Fotografía: Pepe Valenzuela
---
F + BLOOD TYPE GIRLS
Real fashion is on the streets with real girls who dress and live fashionable lives.
They don't sell their LOOKS, they own them!
Look Magazine te trae a las verdaderas fashionistas de Guatemala. No te pierdas sus mejores looks.
---