REALITY MAKER: MARÍA ISABEL PEPIÓ
PERHAPS YOU NEED TO KNOW HER 
Por: Isabel Moino
Conoce a María Isabel Pepió, la co-fundadora de Perhaps You Need a Little Guatemala y fundadora de Be a Blessing Guatemala.
María Isabel siempre ha estado apasionada por Guatemala, sus lugares, su cultura y su gente. Fue por eso, que se acercó a Manuel, quien inició el proyecto de Perhaps You Need a Little Guatemala en Facebook, para contarle que estaba interesada en desarrollar el proyecto por medio de Instagram.
"Pensé en Instagram porque es una red social que se usa mucho entre jóvenes alrededor de todo el mundo. Me involucré en el proyecto ya que mi sueño es que Guatemala se conozca por lo que realmente es a nivel mundial."
Cuando comenzó el proyecto en Instagram, notó lo fácil que era registrar los posts a través de los hashtags. Así nació el hashtag #perhapsyouneedalittleguatemala que identifica las fotos o vídeos que comparten lo mejor de Guatemala.
Hoy hay más de 52K posts en Instagram utilizando #perhapsyouneedalittleguatemala
"La misión de Perhaps You Need a Little Guatemala es compartir con el mundo entero el paraíso en el que vivimos y todo lo que Guatemala tiene que ofrecer. ¡Lo tenemos todo! ¡Lagos, volcanes, montañas, ríos, playa de arena negra, playa de arena blanca! Tenemos a nuestro alcance ambientes totalmente distintos, cada uno con sus propias características y encantos. La belleza de Guatemala habla por sí sola."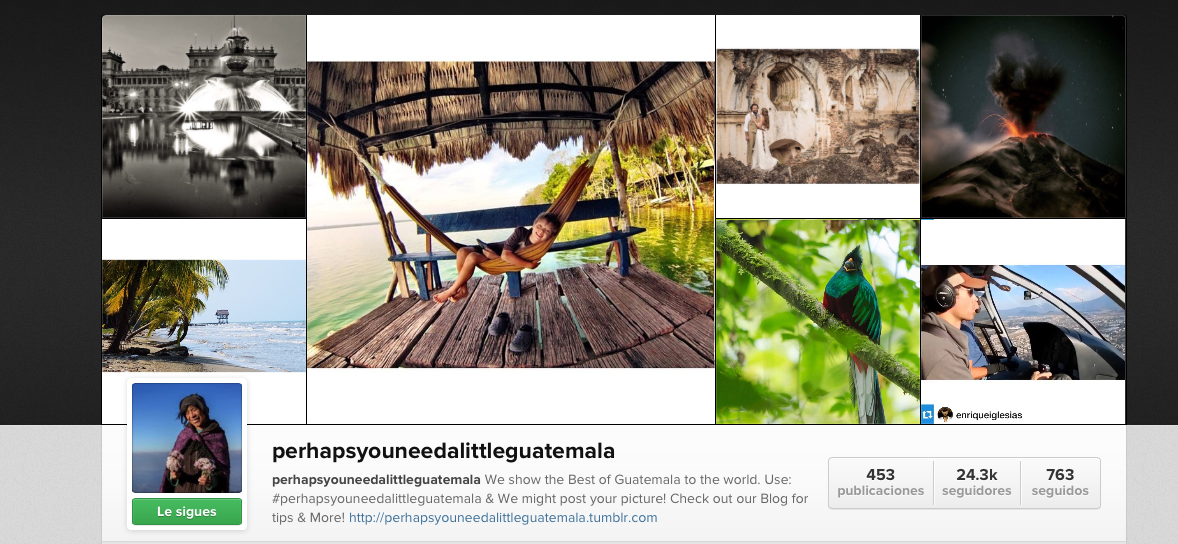 Cada oportunidad que tiene, la aprovecha para conocer y descubrir lugares en Guatemala. Le encanta compartir sus fotos para que los demás conozcan los tesoros escondidos de nuestro país y se animen a explorarlos.
Otro de sus proyectos es Be a Blessing, el cual fue fundado en el 2009. Este emprendimiento nace de un sueño que tuvo desde pequeña: ayudar a las personas necesitadas en el país y desarrollar el trabajo artesanal guatemalteco. Su solución fue emprender dentro del campo artesanal, creando una línea de pulseras que aporta a la vida de artesanos guatemaltecos y organizaciones benéficas.
"Las pulseras son creadas por niñas del Hogar Marta & Maria y señoras con familias en riesgo de calle en la ciudad de Guatemala. Cada pulsera representa la bendición que tú le das a estas personas."
El nombre de su proyecto Be a Blessing describe su estilo de vida y su misión personal. La mueve ayudar a los demás y siempre dar lo mejor de ella en todo lo que hace. Quiere seguir inspirando a más personas a que hagan lo mismo, a que sean una bendición para los demás.
María Isabel es prueba que la pasión y el trabajo no son necesariamente opuestos, y que con un poco de esfuerzo e ingenio puedes hacer realidad lo que te mueve. Ambos proyectos le causan muchísima satisfacción y le dan sentido a su vida.
"A través de mis proyectos he llegado a tener contacto con gente linda y pura de corazón. Dispuestos ayudar y hacer crecer mis proyectos. Al hacer lo que me gusta, día a día, me llevé la sorpresa de ver como todo evoluciona y crece naturalmente. Hay días en los que me doy cuenta cuanto han crecido  Be a Blessing y Perhaps You Need a Little Guatemala, me cuesta creerlo."
---
Conoce más de Perhaps You Need a Little Guatemala:
Y de Be a Blessing:
---
 Fotografía: Fernanda Caminade – El Estudio
---